Cloud marketplace's popularity is on the rise and their accelerated adoption is undeniable due to their customer-friendly, partner-friendly, investor-friendly, and vendor-friendly nature:
• McKinsey reports that marketplaces have grown in the first 3 months of the pandemic more than during the 10 years before COVID-19.
• 73% of software customers say that they like the buying process offered by marketplaces.
• Forrester predicts that 17% of the B2B spending of $3.5 trillion will go through a marketplace by the end of this year.
What are cloud marketplaces?
For clarification, there are many marketplaces out there but what the industry sees as super marketplaces are those owned by Microsoft, AWS and Google.
In the top 20 winning marketplaces, there is not a single one operated by a distributor
These marketplaces claim to reduce the cost and complexity of working with the traditional channel partners by paining the former resellers as affiliates or advocates and allowing vendors (including MSPs) to easily onboard their offerings onto the environment. Marketplaces incentive seller & buyer motivation.
B2B customers use marketplaces to independently research and compare solutions, on the one hand. But they also see them as alternatives to the traditional sales where they can enjoy a less complex buying process and receive better prices.
Vendors are proud of having such a commercial marketplace and for a good reason: they are already processing millions of dollars annually.
The AWS marketplace has 1600+ software vendors integrations and 50 new partners are joining daily
How are cloud marketplaces changing the channel?
One of the major struggles for distributors right now is competing against vendors going direct. This bluntly translates into competing against these online commercial marketplaces where buyers can fulfill their desire for a close relationship with the vendor, faster time-to-value and ultimately reaching higher cloud adoption.
Distributors have evolved over decades and managed to bring the values the channel needed at the time (fulfillment, credit facilities, marketing, sales, and domain expertise). But if these marketplaces become commodities, distributors must bring a new strategy into the game:
• Should they re-build their e-commerce stores?
• Should they launch their own marketplace?
• Should they find a partner that helps them support the digital way of selling?
• Or should they cooperate with super marketplaces like AWS and Microsoft?
Industry analysts say all of these combined in a multi-way strategy.
Many other vendors took this advice to heart and have already launched their own marketplaces to streamline digital sales and purchases. The level of marketplaces maturity between them differs, but they are clearly following the example of the super players like Microsoft & AWS.
Marketplaces becoming the connective tissues of the channel
Marketplaces allow customers to have a one-stop shop for all business needs due to their hundreds of integrations.
Vendor integrations some of which distributors already have on their catalog and think of them as a unique value proposition
Besides that, private marketplace APIs allow enterprise customers to connect their systems to the vendors' marketplace and establish a convenient and individual process of buying. A well-tested B2C strategy, luring customers or verticals with the idea that when they connected a part of the business, the convenience and the conditions will make them stick.
The purchasing experience of the personal life replicated in a business environment: If you have everything available on Amazon, would you shop elsewhere?
Marketplaces have also financial perks in their favor. Attracting large companies with convenience and making them stay forever with the promise of large discounts and enterprise credits.
Professional services hammer down the marketplace's superiority even more. Finally, catalogs that are not just for purchasing SKUs but a bundling engine where professional service providers bring offering to win the market.
There is a huge motivation from the seller side to onboard to these commercial cloud marketplaces with their shorter sales cycle and co-sale and up-sell opportunities. Marketplaces also offer sellers to reach a wider audience and a variety of nice verticals.
How do you go about marketplaces as a distributor?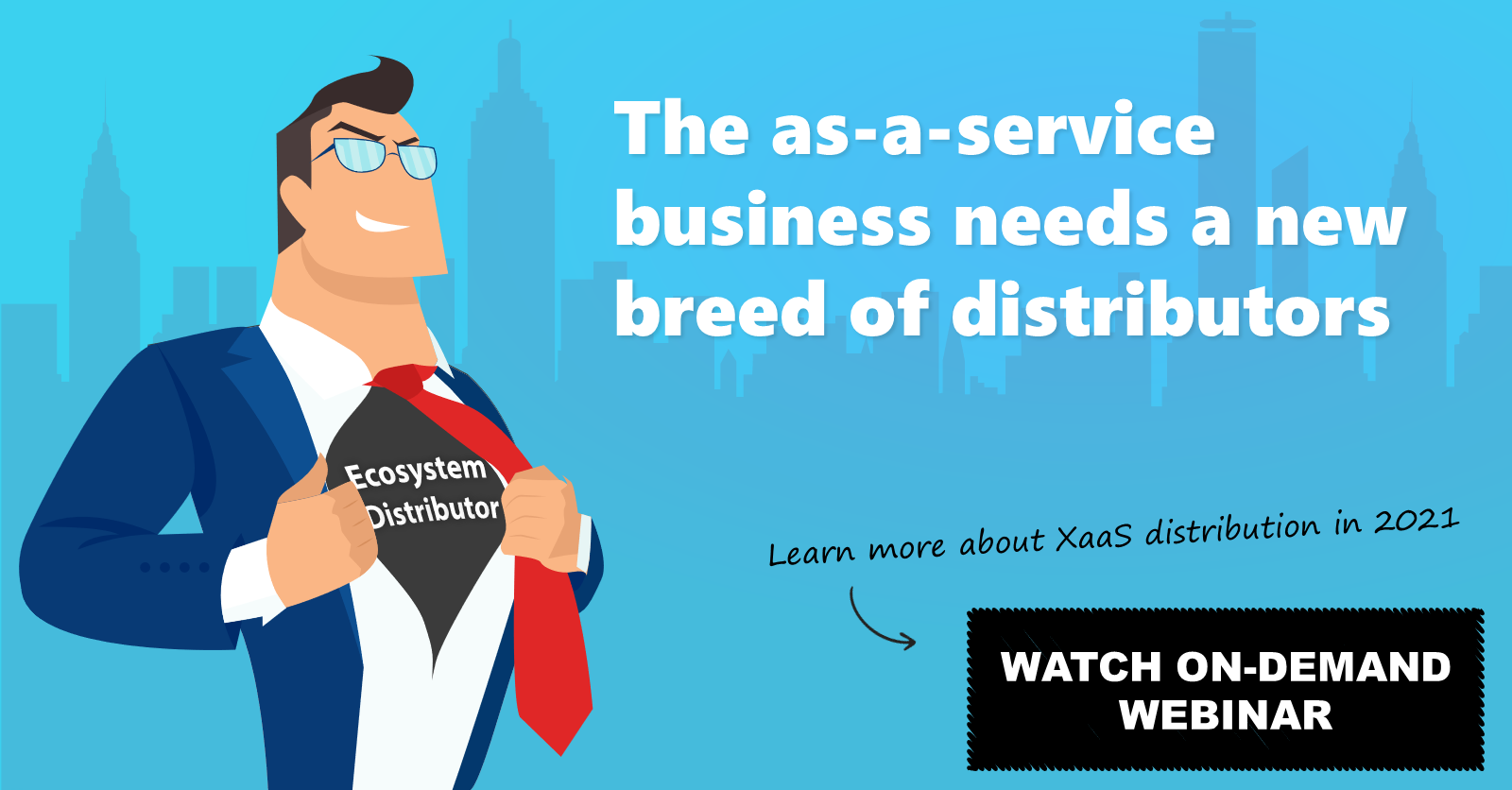 Analysts predict that distributors will struggle in the evolution of the industry, but a new breed of distributors could come out as the winners of the channel's transformation.
Watch our on-demand webinar Does the XaaS business need distributors in 2021? to learn about the new roles of distributors: