Marketplace for Selling & Managing Multi-Vendor Cloud Services
AppXite's e-commerce marketplace is an intuitive platform for purchasing and management of a range of powerful cloud products and your own services. It provides a central, user-friendly interface where you can operate and maintain every facet of your as-a-service business while giving your customers the opportunity to experience a high level of independence with our self-service tools.
Marketplace Setup

Launch custom branded cloud marketplace with pre-built multi-vendor integrations.
Product Management
Build multi-vendor, multi-tier offerings and your own services easier than ever.
Configure-Price-Quote (CPQ)

Deliver accurate price offers for multi-product purchases with different billing logic.
Billing & Invoicing

Handle multiple billing scenarios and support various pricing models.
Automated Provisioning
Provision XaaS orders with an automated workflow to enable service delivery.
Sales Analytics
Gain immediate insights into your subscription business key metrics and sales performance.
Marketplace Setup
Fully Branded Cloud Marketplace With Multi-Vendor Integrations
Run your storefront on a selected domain, with your logo and brand colors. Configure and publish your own offerings and products of any desired cloud and SaaS vendors and for any sales channel - whether you are a direct or indirect seller or you sell and bundle your own solutions or managed services.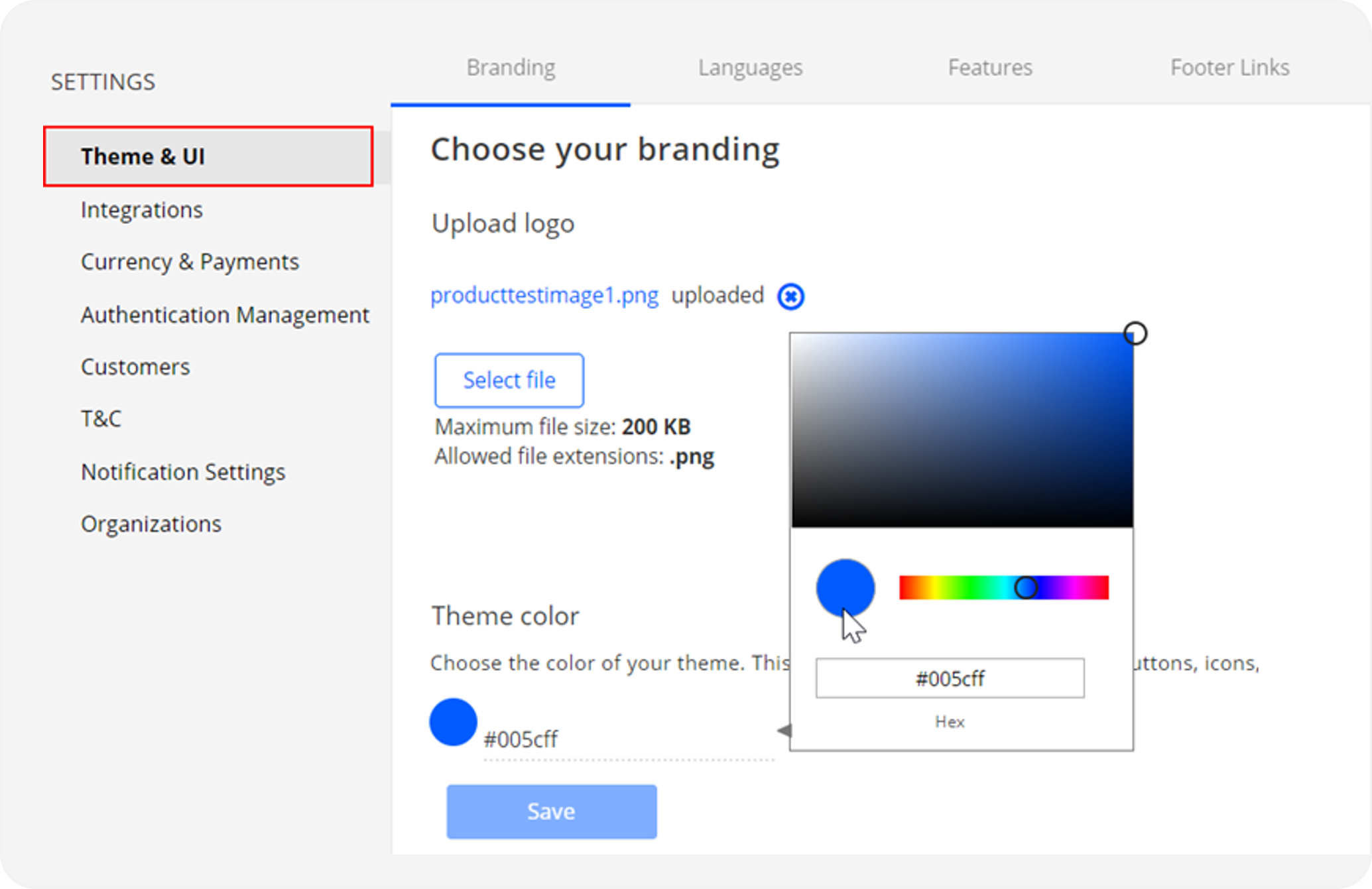 Pre-Built Ecosystem Management Integrations
| | | | | |
| --- | --- | --- | --- | --- |
| Direct & Indirect CSPs and Distributors | Adobe VIP Marketplace Program | AWS Certified Cloud Sellers | AWS Certified Cloud Sellers | IBM Cloud Marketplace Resellers |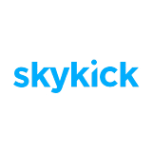 Skykick
SAP
Quest
BitTitan
Cisco
Barracuda
Avepoint
Auth0
Stripe
ConnectWise
Hive Streaming
Dugga
Product Management
Build a Product Catalog for Each Customer Segment
AppXite's cloud management platform allows you to add or remove products in seconds, build categories that reflect your business best and add tags and filters to make navigation even easier. Segment your customers by industry or priority and present each segment with a specific selection of products and prices.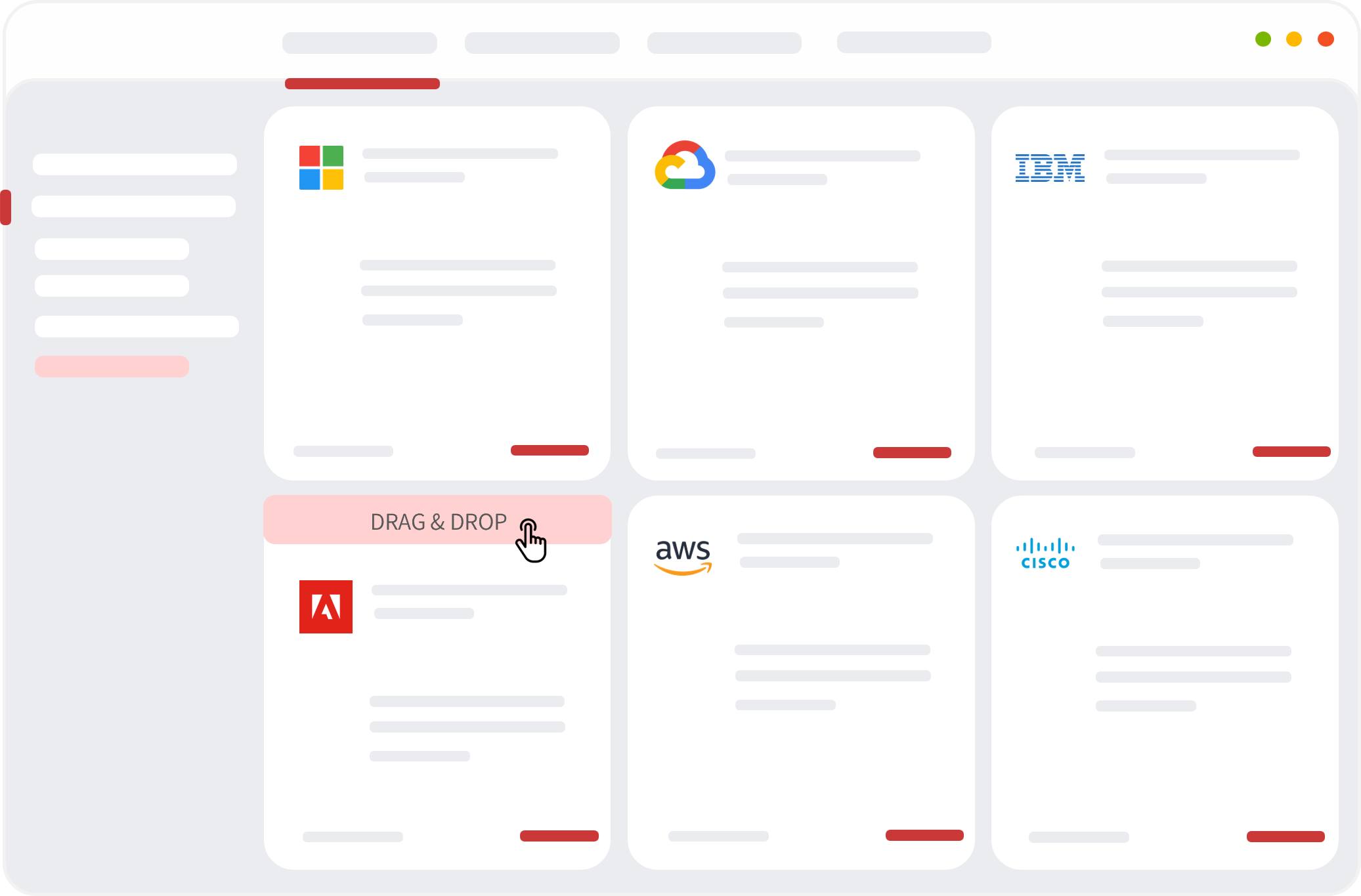 Configure-Price-Quote (CPQ)
Create Accurate Quotes for Products & Services of All Revenue Types
Execute complex price calculations in real-time and on your marketplace during the checkout journey. With the AppXite price quote configuration engine, you will always deliver accurate price offers for multi-product purchases no matter if they are from different vendors or sold with different billing logic and frequencies. Increasing cross-sell and up-sell opportunities with AppXite's cloud management platform and eliminate human errors, manual price estimation and quoting delays.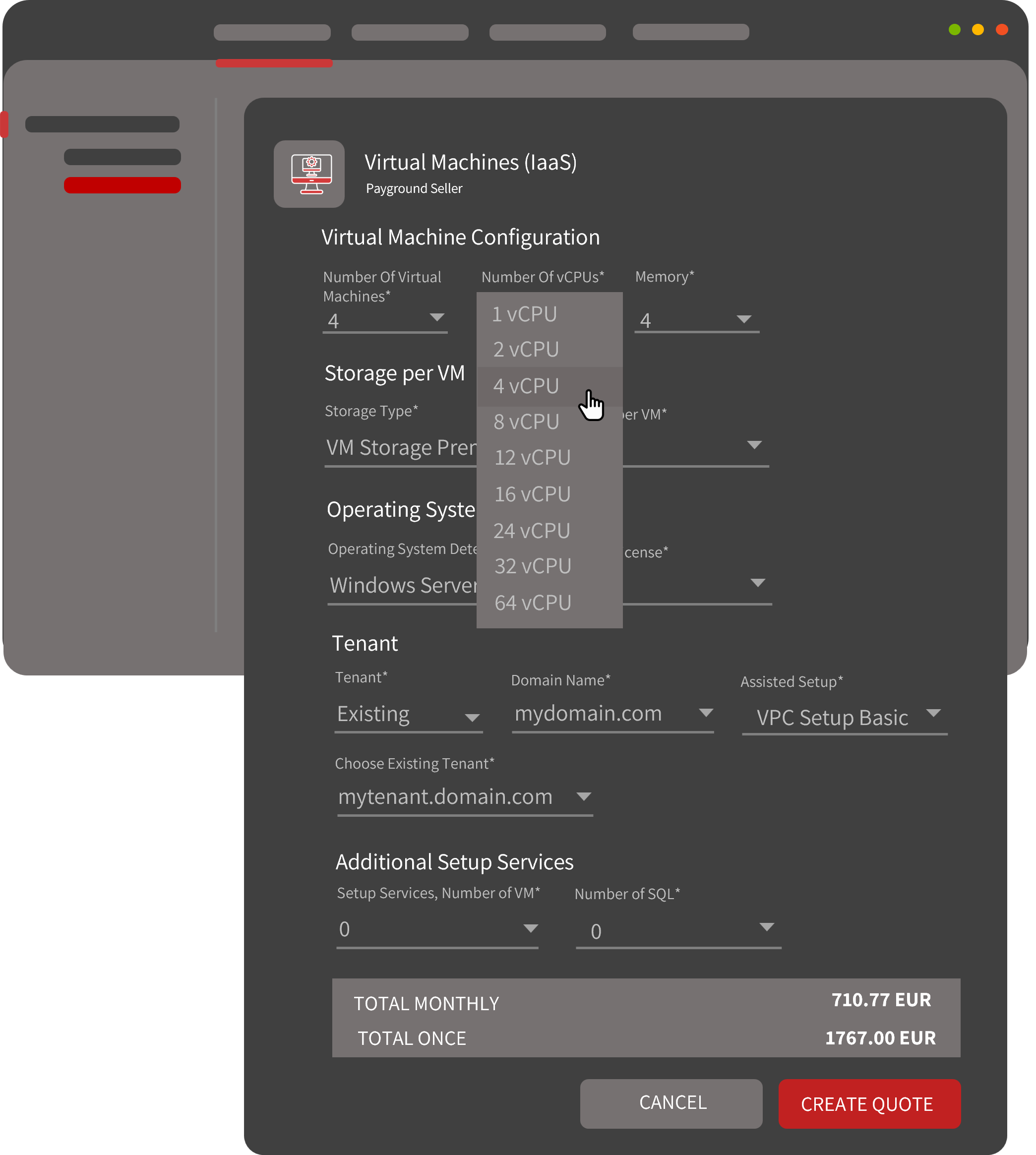 Close Deals Faster With AppXite State-Of-The-Art CPQ Engine
Maximize Productivity
Enhance sales team productivity by automating the price offers generation so you can focus on other sales tasks.
Reduce Sales Cycle

Close deals faster eliminating the delays in your sales process with real-time automatic quotes and zero manual calculations.
Eliminate Errors

Comply with product, pricing and business rules and always deliver consistent customer experience and unified quotes.
Manage Pricing

Modify solution prices and margins for all customers from the platform admin console quick and easy.
Subscription Billing
Flexible & Automated Recurring Billing That Scales With Your Growth
Handle the billing complexity of multiple pricing models across ordering, provisioning, invoicing, and reconciliation. The AppXite Platform integrates with leading payment gateways to provide an out-of-the-box solution, or APIs if you prefer to use your own billing system. Set up custom billing cycles for both consumption and subscription-based transactions.
Automatic Provisioning
Automate Order Fulfillment & Seamless Cloud Product Delivery in a Seconds
Sales Analytics & Reporting
Track All Your Sales Data Down to a Single Offer or Subscription Level
Keep track of all the subscription metrics along with important KPIs like sales margins, upcoming renewals, monthly recurring revenue (MRR), churn rate, and customer lifetime value. Integrated reporting capabilities of the AppXite Platform let distributors, sellers and customers analyze transaction data from multiple perspectives - financial indicators and sales performance, subscriptions and orders, customers and usage, and more!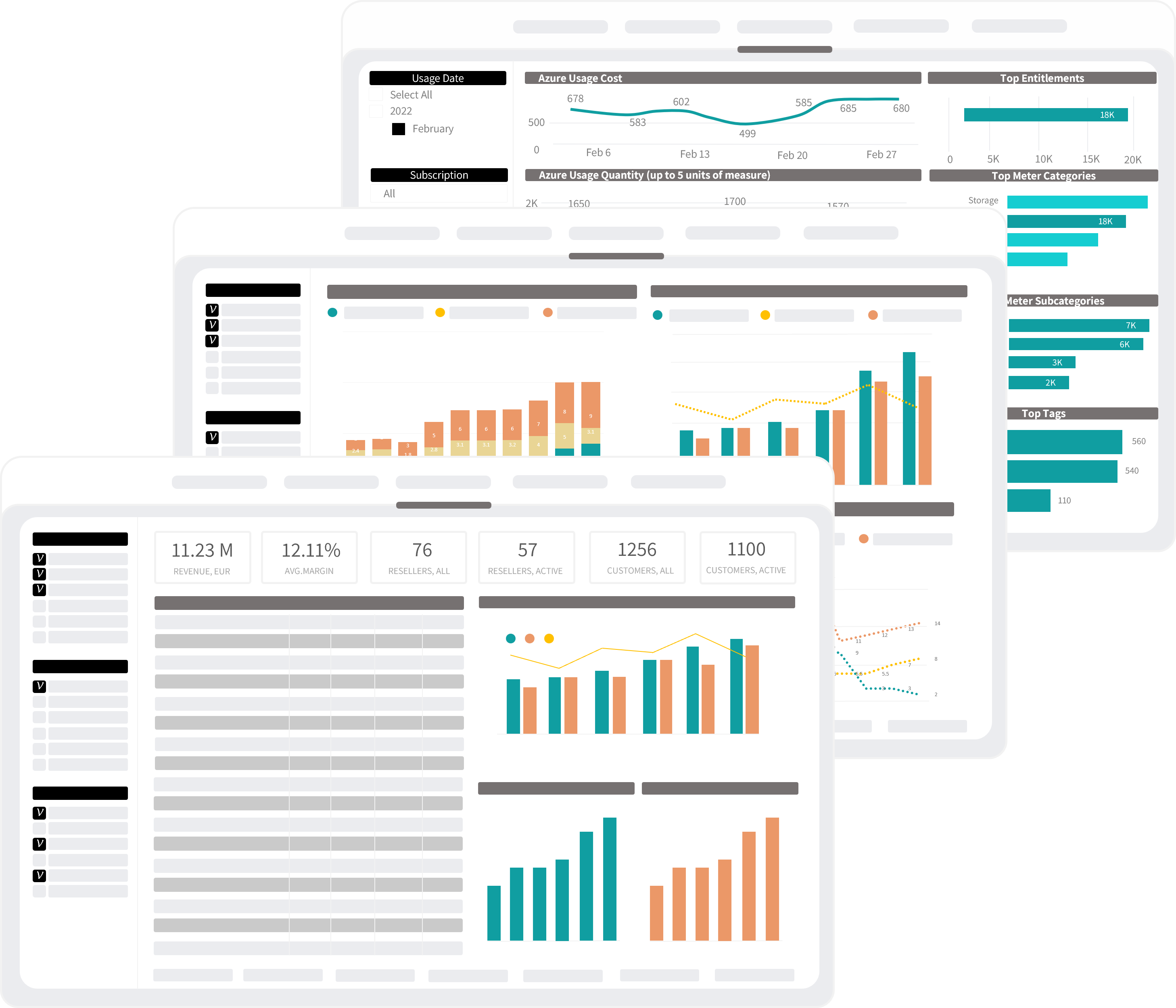 AppXite Knowledge Base
Explore More AppXite Marketplace Features
Frequently Asked Questions
What offerings are included in AppXite product catalog?
Partners can choose to include their own offerings and/or products and services from selected niche and local ISVs or other well-known vendors like Microsoft, AWS, Google, IBM, etc. Find the full list of pre-integrated to the AppXite Platform vendors here.
Can I set custom prices for different client segments on the platform?
On AppXite Platform, partners can segment their customers and show different product catalogs to different segments. They can also manage the pricing on customer level and set prices for every customer individually.
Can my customers service their subscriptions themselves?
Partners can invite their customers to manage and buy products and services by themselves with the right permission roles. See roles graph here.
Is it possible to add our own offerings to your platform?
Partners can add new offerings such as their own intellectual properties, one-time products, recurring service, etc. to their catalogs. The additional offers are created vie platform's offer configuration functionalities. When creating the new offer, partners can choose to appoint AppXite to act as their distributor (which means that AppXite will allow the offer to be sold by our entire network of sellers) or for the offer to be available on the partner's catalog only.
Is it possible to create bundles of several offerings?
On AppXite Platform, vendors can create bundles of their own products and services and make them available for sellers. During the bundle's creation, the vendor can customize its offer to make it fit better the dedicated vertical with description, marketing materials, etc.