Software and, for that matter, hardware customers are no longer easily satisfied. An entirely new generation of consumers has grown up immersed in modern technologies. They prefer to conduct their own research, to compare prices online, and to buy at their own convenience as independently as possible. Business customers expect online B2B business platforms to provide the same quality service and purchasing experience as that of a B2C platform.
In SaaS and cloud, between 45-65% of the costs for the channel are related to enabling online sales, automating software provisioning, and customer management in alignment with the new customers' purchasing patterns. It has become crucial for as-a-service companies to find a way to automate and optimize the way they do business.
When services do not meet customers' expectations, the competition is literally a click away.
The shift in SaaS sales transformed the distributions as well. The as-a-service distribution is now much different from what product distributors used to do in the past.
The next-generation of distribution (cloud and XaaS) is platform-centric. Built on top of systems that allow customers to manage and buy services by themselves in order to lower operational costs, improve profits and competitiveness at no additional expenses. The SaaS distribution platforms are cloud infrastructures for purchasing and management of a range of cloud products and the distributor's entire network.
Next-gent distributors skip the commodity cloud platform tools and enable a modern XaaS distribution channel with advanced functionalities:
1. Self-Service
The manual effort of working with as-a-service customers will cancel out any profit. But with self-service subscription management, the business can resell cloud applications at profit and fulfill the demand of customers in the same time.
2. Provisioning & Integrations
In the context of next-gen distribution, you are expected to offer everything and anything as a service (XaaS). The real value of a cloud platform kicks in when distributing more than one vendor via the same platform (multi-cloud/multi-vendor marketplace) and provisioning all products with the same level of success. The flexibility to add new vendor and/or other customer-requested offerings and on the other hand integrate into existing business systems like ERP, CRM or ITSM are crucial to compete with giants of the industry.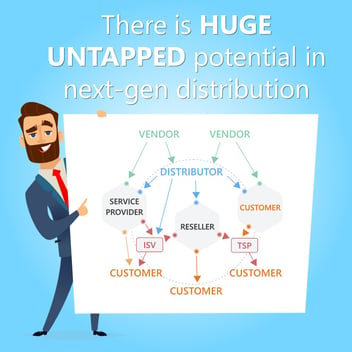 3. Billing
With every month being a billing month,, an accounting team forced to gather data from different vendor portals and calculate each manually will be a huge business bottleneck. Essentially, the effort will exceed the value gained from the sale. Therefore, automated billing and invoicing become a must-have and has to follow all vendor pricing models that you could possibly think of.
4. Quotations
Allow sellers to create a custom quote out of the items in the platform to send to the customer for acceptance. Let them name the quote, set expiry date, set desired margins, and exchange comments with the customer. If the customer accepts, provisioning and billing run automated.
2. CPQ
Your MSPs will first desire and later demand it. Configure-Price-Quote (CPQ) creates multi level pricing plans for each product or service in the catalogue. It allows creating advanced and complex offers customers can configure and purchase automatically, based on their needs.
Find more on the topic in our Next-Gen Distribution e-book - like how can local distributors compete with the global distribution giants in 2021?